Medicaid Health Plan Changes Delayed to September 1st
The implementation of the Physical HealthChoices procurement, which will bring about major changes to the Medicaid (also known as Medical Assistance) physical health plans available across the state, was pushed back to September 1, 2022. There are important action steps consumer needs to take by August 16th in order to ensure continued access to health services.
Who is impacted?
Between June 22 and July 7, mailings explaining the new plan choices will go out to all Medicaid consumers, including both those who are impacted and must change plans because their current plan is going away, and those who are not impacted but may change plans if they wish. The mailing will contain a letter explaining the upcoming changes as well as a plan comparison chart showing the plans that will be available in the consumer's zone of the state beginning September 1. 
Almost half a million Pennsylvania Medicaid consumers will need to choose a new plan because theirs will no longer operate. Those who need to choose a new plan but do not do so by August 16th will be auto-assigned into a plan.  The remaining 2.3 million consumers in the Medicaid HealthChoices program will have the option to choose a new plan and will have new plans available. 
NOTE: These changes do not impact the Children's Health Insurance Program (CHIP). Even though certain plans like Aetna are no longer offering Medicaid plans after September 1, those plans listed below deal with Medicaid ONLY, and do not apply to CHIP. If your child is in CHIP, nothing about their coverage is changing. 
Important Dates
Notices mailed to consumers: June 22 through July 7
Consumers may choose a new plan (note: some must choose a new plan): June 22 through August 16
Consumers who had to choose a plan but did not are assigned to a plan: August 17
New plans start: September 1
 
June 22 is the first day individuals can contact PA Enrollment Services to enroll into a plan to be effective September 1. This consumer choice period will end on August 16. After that, there will be an auto-assignment period beginning on August 17, where anyone who had to change plans but did not actively select a new one will be auto-assigned to a plan, and their coverage will begin on September 1. It is vitally important that consumers who need to change plans make an active choice rather than allow themselves to be auto-assigned a plan, in order to avoid risk of loss of services. Some people will not need to choose a new plan, and may decide either to stay with their current plan, as long as it is still available after September 1, or to choose a new plan to begin on September 1.
New Plans Available
Whether or not your plan choices are changing depends on where in Pennsylvania you live. Aetna will no longer operate a Medicaid plan in Pennsylvania after September 1. United will no longer operate in the Southwest and Lehigh/Capital zones. Highmark (formerly Gateway) will no longer operate in the Northwest zone. In other zones, new plans will become available beginning September 1. A zone-by-zone overview of the plan changes coming in September can be found below.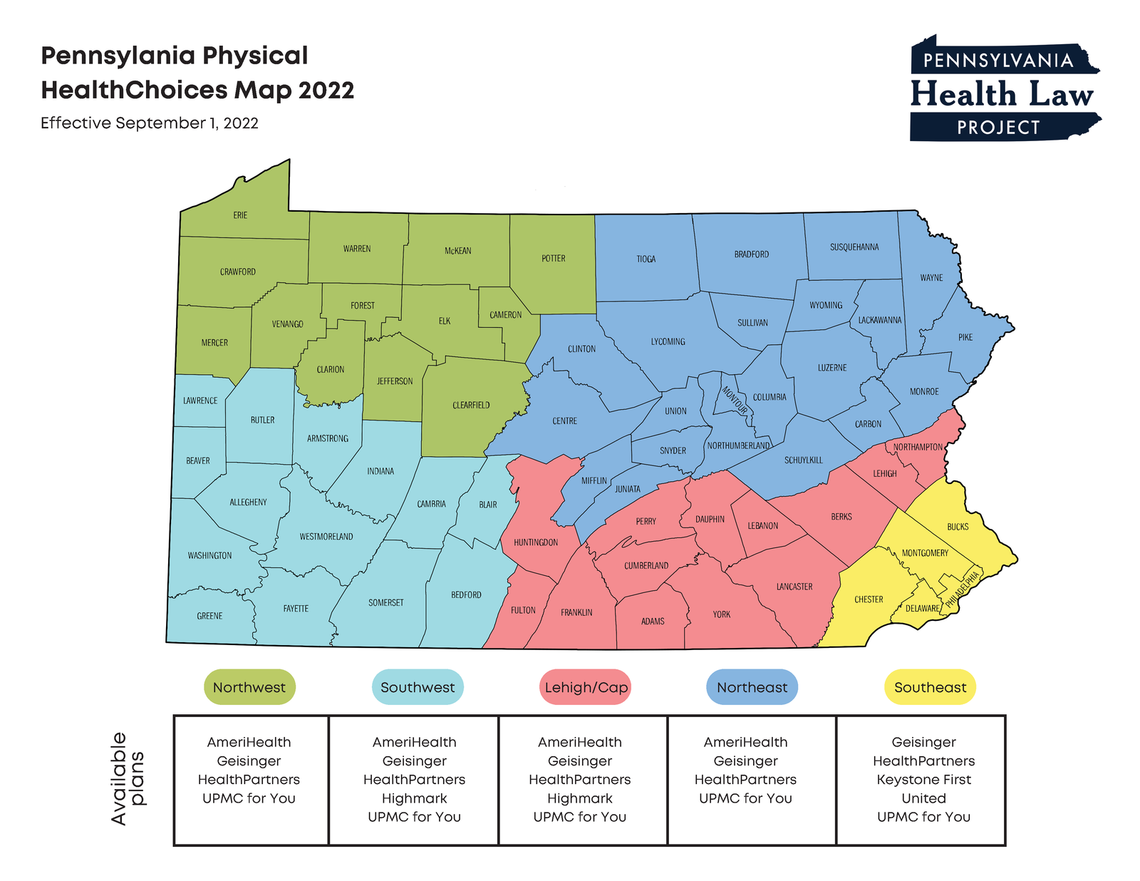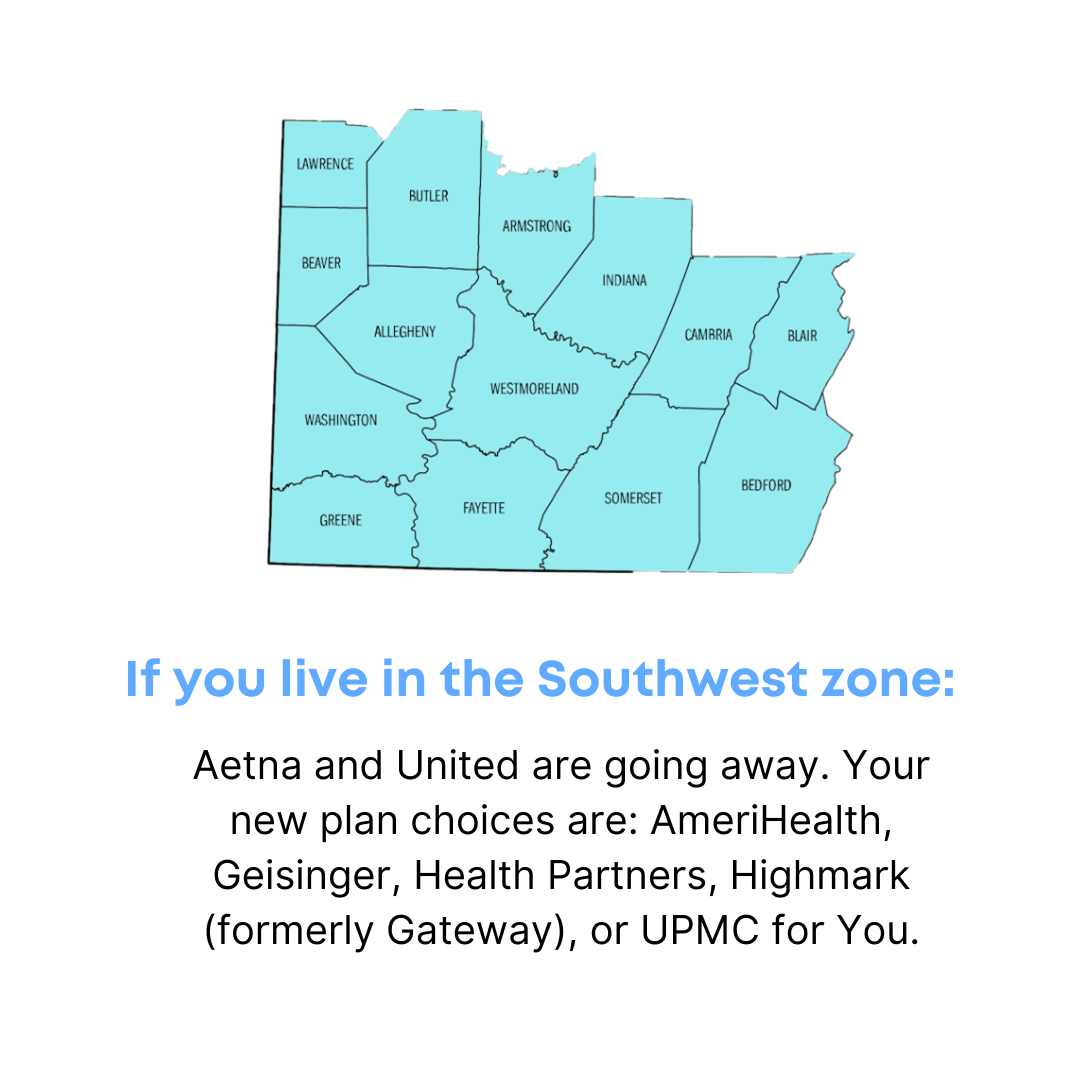 Southwest Counties:
Allegheny
Armstrong
Beaver
Bedford
Blair
Butler
Cambria
Fayette
Greene
Indiana
Lawrence
Sommerset
Washington
Westmoreland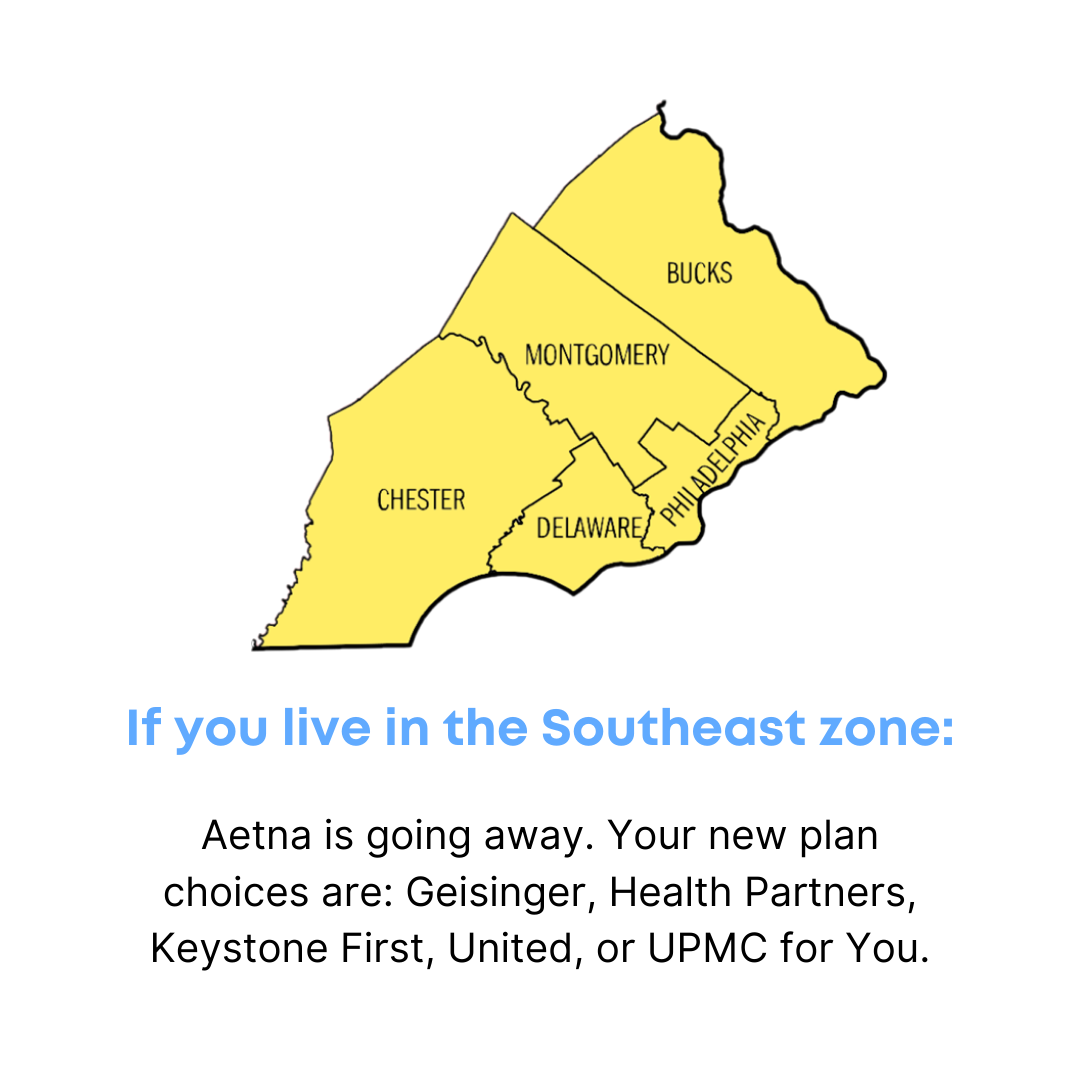 Southeast Counties:
Bucks
Chester
Delaware
Montgomery
Philadelphia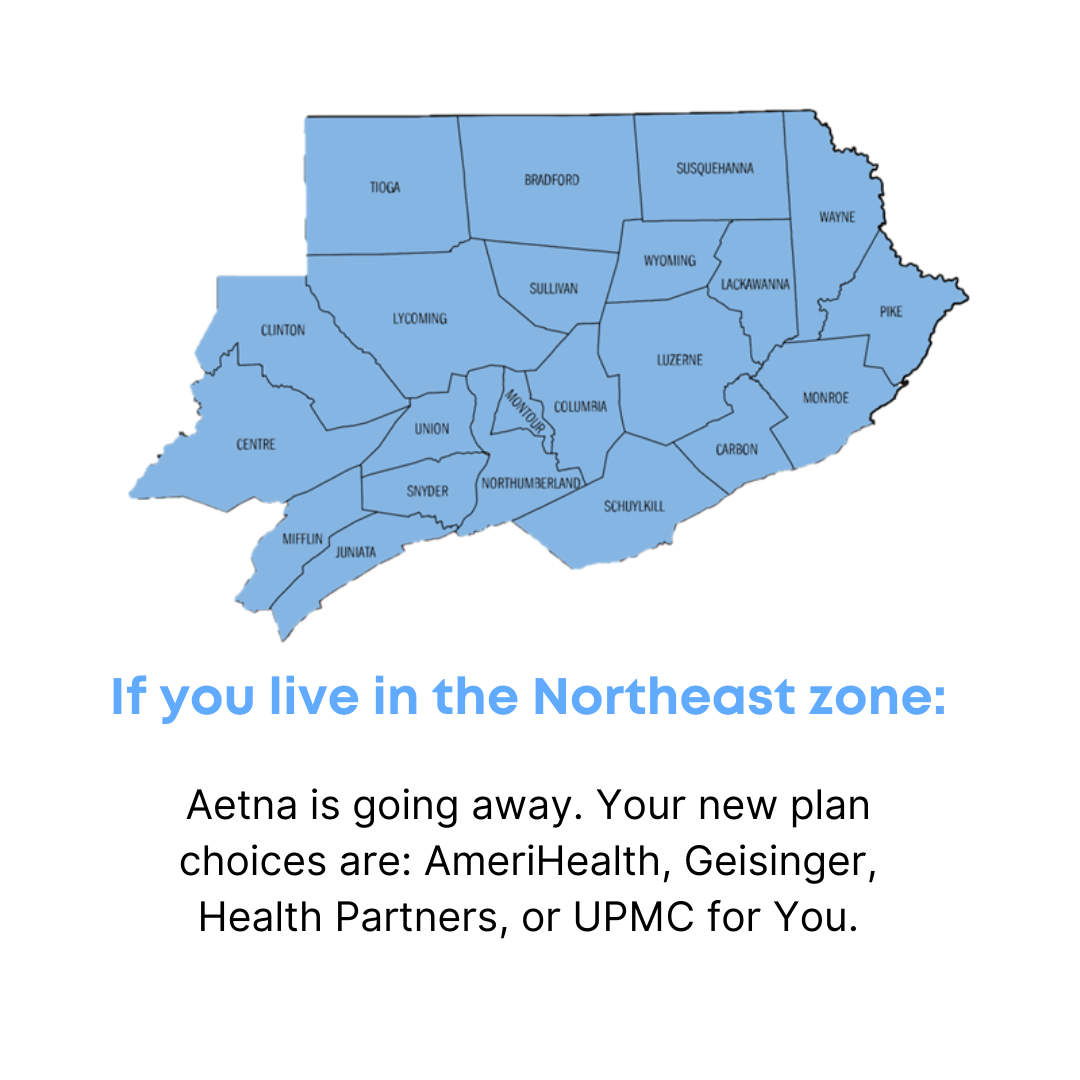 Northeast Counties:
Bradford
Carbon
Centre
Clinton
Columbia
Juniata
Lackawanna
Luzerne
Lycoming
Mifflin
Monroe
Montour
Northumberland
Pike
Schuylkill
Snyder
Sullivan
Susquehanna
Tioga
Union
Wayne
Wyoming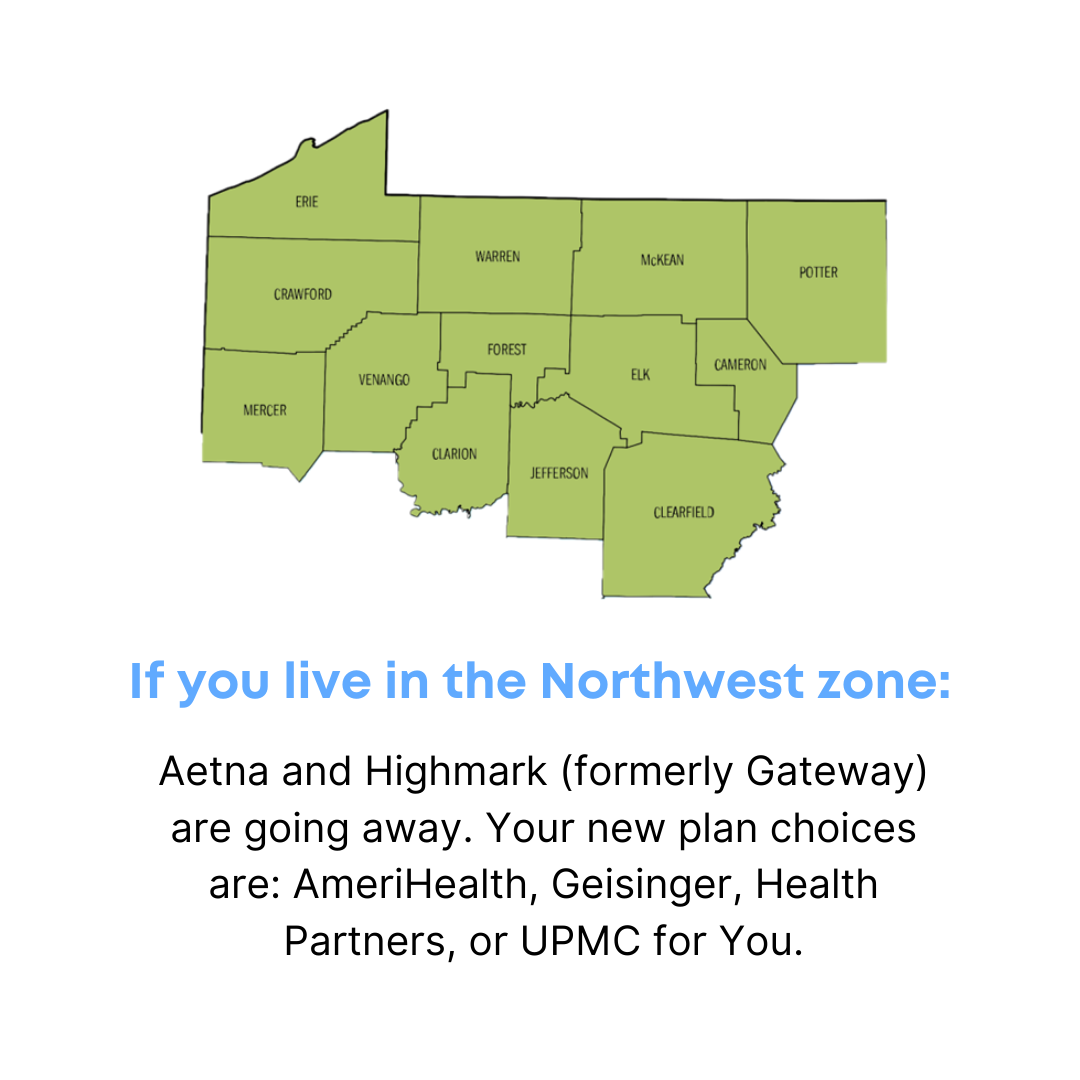 Northwest Counties:
Cameron
Clarion
Clearfield
Crawford
Elk
Erie
Forest
Jefferson
McKean
Mercer
Potter
Venango
Warren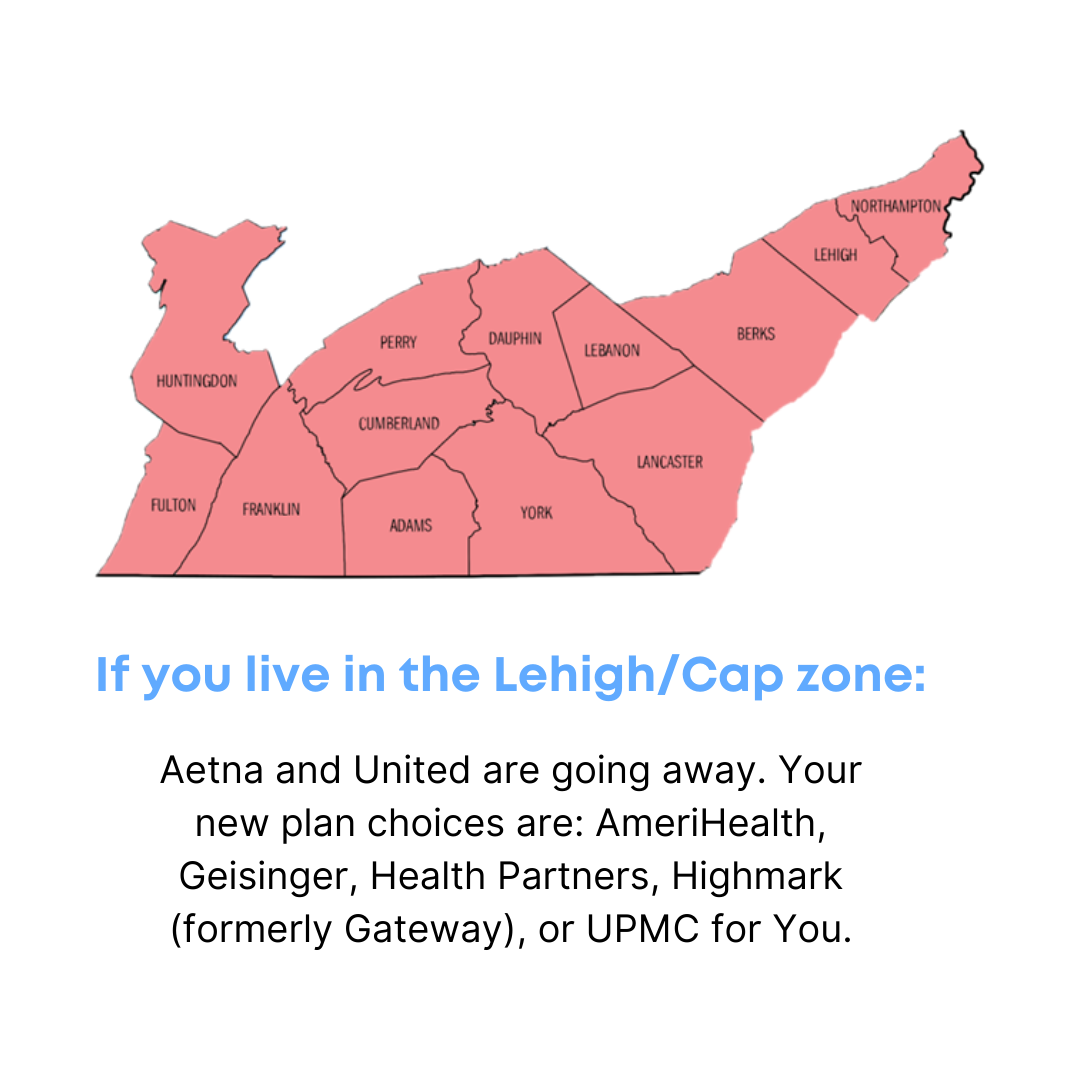 Lehigh/Capital Counties:
Adams
Berks
Cumberland
Dauphin
Franklin
Fulton
Huntingdon
Lancaster
Lebanon
Lehigh
Northampton
Perry
York
How to Change Plans
To change plans, contact PA Enrollment Services in one of the following ways:
Go to PA Enrollment Services (enrollnow.net), or        
Use the mobile app called PA Enrollment Services (available through the Apple store or Google Play), or
Call 1-800-440-3989 (TTY: 1-800-618-4225) and select Option 6 to speak with a representative.  Hours of operation are Monday through Friday, 8 a.m. to 6 p.m.
More Resources
The Department of Human Services (DHS) has put together a toolkit for advocates and other stakeholders that disusses the upcoming changes and outlines what consumers need to do to get ready for the September 1 change. Download a copy of the toolkit here.
DHS has also created a website dedicated to the Medicaid plan changes, which you can access at www.dhs.pa.gov/PlanSelection.

PHLP will continue to monitor the implementation of these health plan changes and will keep consumers up-to-date about further developments.