Nearly 500,000 Medicaid Consumers Change Health Plans as Part of HealthChoices Reprocurement
For the first time in Pennsylvania's history of Medicaid managed care, the state agency successfully implemented a re-procurement across all five Physical HealthChoices zones.  As a result, the managed care plan offerings in each zone were re-shuffled and nearly a half million Medicaid consumers either chose or were auto-assigned into a new plan effective September 1st.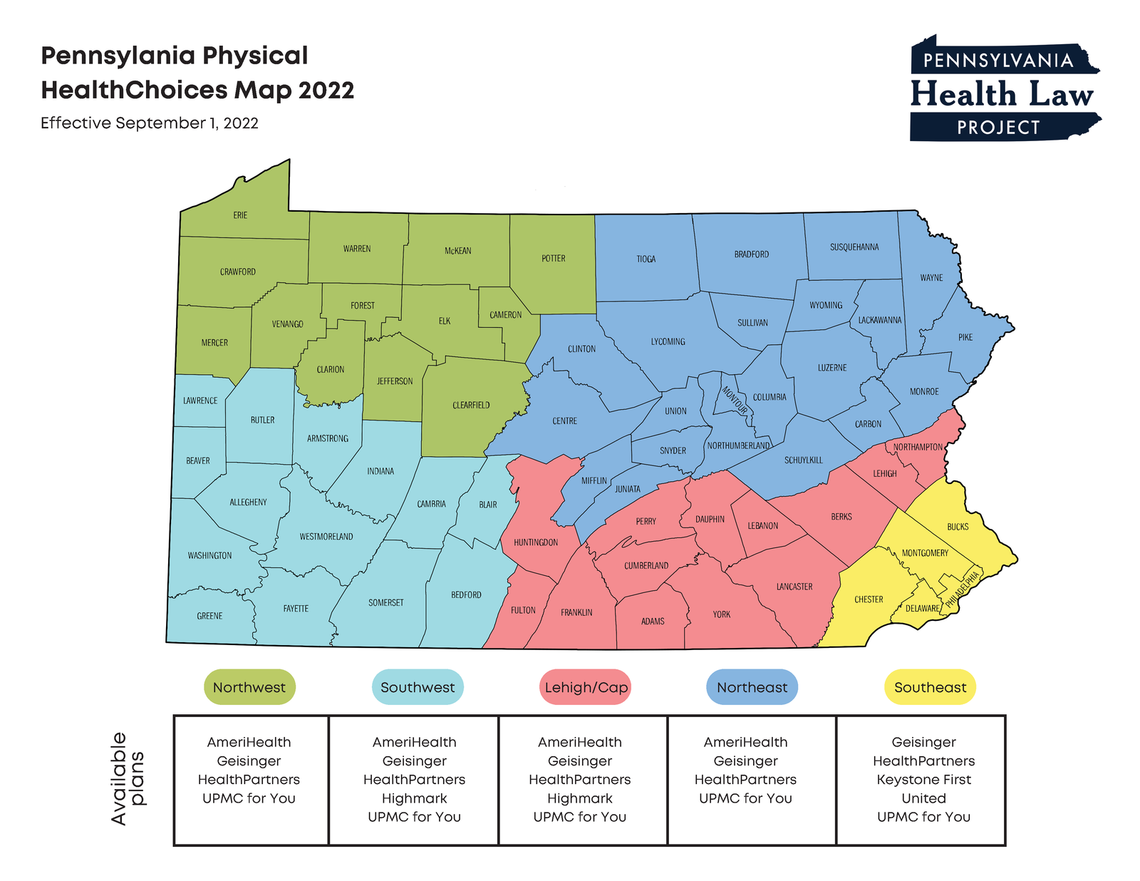 Two previous attempts by the state Medicaid agency to open the Physical HealthChoices program to new insurance plans were derailed by legal challenges.  This third attempt was delayed after legal challenges by dissatisfied bidders, but this time the Department of Human Services (DHS) prevailed in those challenges and was able to implement the reprocurement.  Until now, the managed care plans in Physical HealthChoices were operating under an extension of contracts granted in 2012 or earlier.  Under the new procurement, agreements will be in effect for five years with a DHS option to extend them for another three years. 
Nearly 500,000 Medicaid consumers, out of a total enrollment in HealthChoices of 2.9 million, had to choose a new managed care plan or be auto-assigned into one.  This included members who had been enrolled in Aetna (statewide), Highmark Wholecare (Northwest zone), or United (Southwest & Lehigh/Capital zones).  The procurement only impacted the Physical HealthChoices program, not any CHIP or other products offered by these insurance companies.  According to DHS officials, of the impacted consumers, 26% (approximately 125,000) actively selected a new plan before August 16th.  The remainder (approximately 366,000) were auto-assigned in equal proportions to the MCOs operating in their zone.  See the DHS charts below for more detail.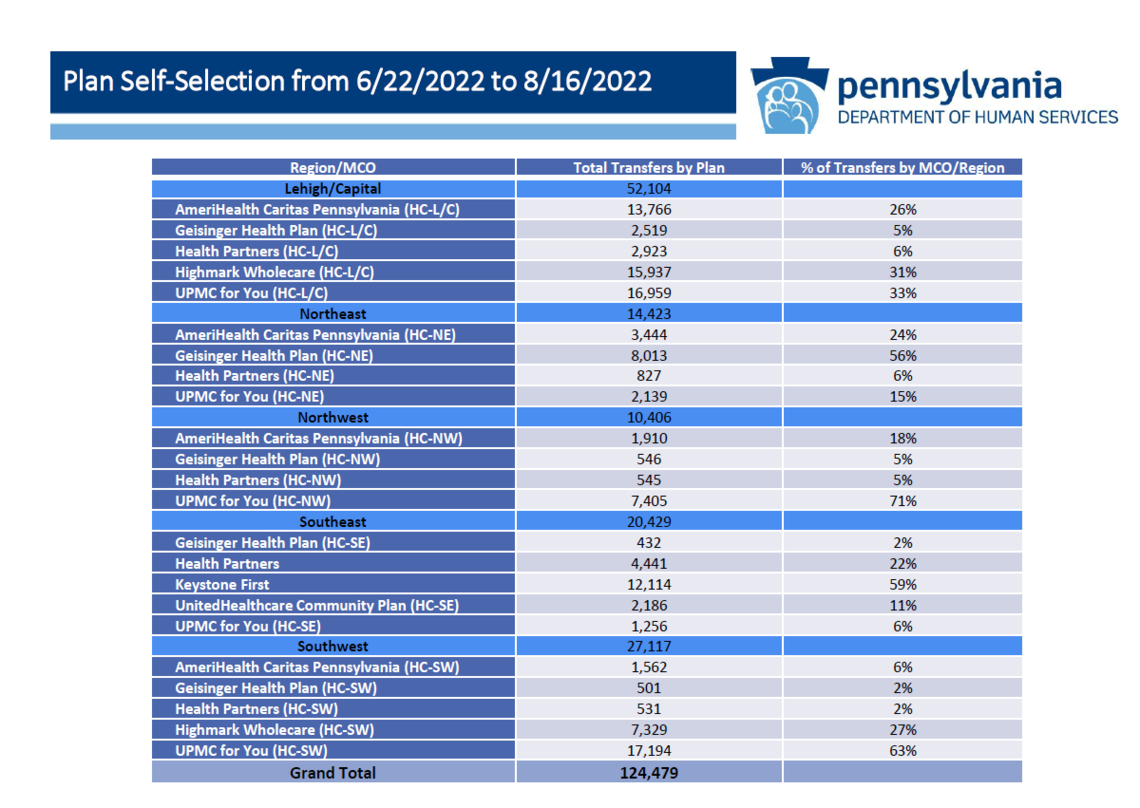 Under continuity of care protections--protections afforded to managed care enrollees under Pennsylvania's Quality Health Care Accountability and Protection Act (Act 68) and the Department of Health's implementing regulations--consumers transiting into a new managed care plan can normally continue an ongoing course of treatment for up to 60 days, even if their treating provider is out of network with the new plan.  Children can continue a prior authorized service through the duration of the authorization period.  Pregnant women can continue OB/gyn care through the labor and delivery period. 
State officials recently reported that the managed care plans had completed their mailings to the new members transitioned on September 1st by the third week of the month.  All impacted consumers should have received a new member letter and member ID card by the end of September.  Medicaid consumers can check their managed care enrollment or change their plan at any time through PA Enrollment Services. 
PHLP encourages any consumers having difficulty accessing services to contact its Helpline at 800-274-3258.