Spotlight On: PHLP's Helpline
With the end of Medicaid continuous coverage protections, people need our help now more than ever. PHLP's Helpline is our central point of contact for individuals who need help resolving problems with Medicaid, such as coverage or services being stopped or reduced.
Here's a snapshot of what our advocates did through our Helpline during the month of March: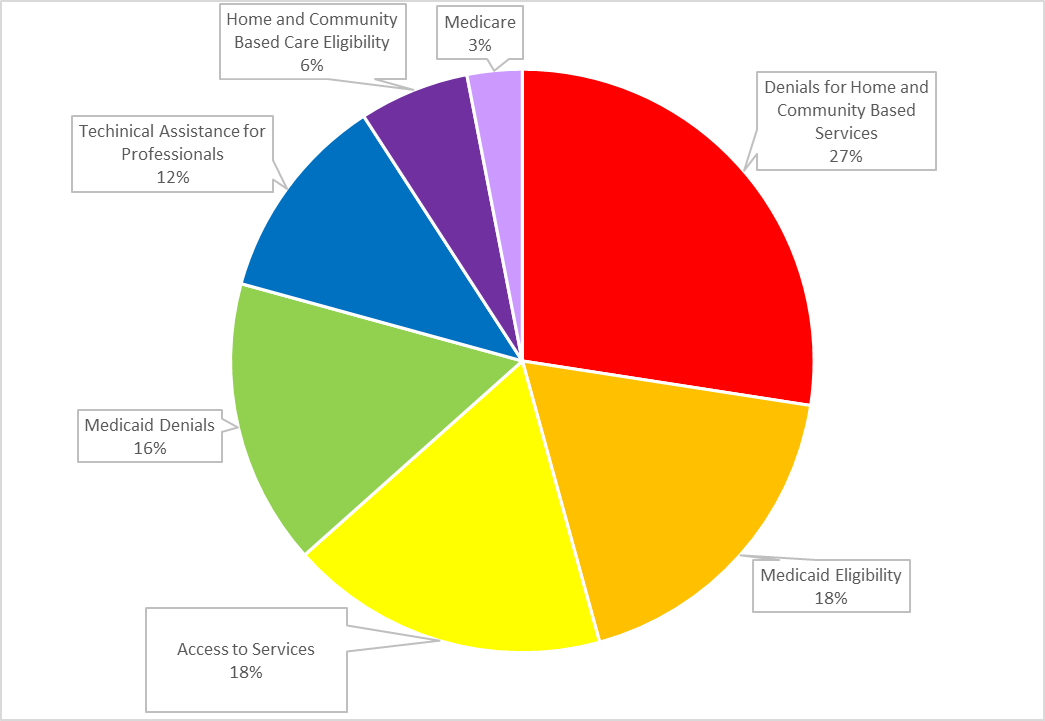 We helped 45 people  (shown in red in the chart above) whose long-term services and supports were denied, reduced, or stopped. Most commonly, we helped people appeal reductions in Personal Assistance Services (PAS) hours under Community HealthChoices (CHC).
 
We helped 30 people (orange) with Medical Assistance (MA) eligibility issues. This includes people who lost their Medicaid or applied for Medicaid for the first time and were denied.
 
We helped 29 people (yellow) with difficulty accessing healthcare services. For example, people had trouble finding the care they needed, staffing their child's home care hours, and people who wanted advice on what benefits are covered by Medicaid.
 
We helped 26 people (green) with their MA service denials, reductions, or terminations. For example, children with complex medical needs whose shift nursing hours were reduced.
 
We helped 19 professionals and advocates (blue) get answers to their MA-related questions. This includes social workers, other legal aid staff, health care providers, benefits counselors, and many more. We are here to support the people on the front lines!
 
We helped 10 people (purple) determine if they are eligible for home and community-based waivers. We also advised them about appealing waiver eligibility denials.
 
 We helped 5 people (violet) who have Medicaid and Medicare (also known as Dual Eligibles) understand and navigate their benefits.

If you need legal help understanding or navigating Medicaid, or if your services or coverage are denied, reduced, or stopped, call PHLP's Helpline at 1-800-274-3258 or email us at staff@phlp,org. We look forward to helping you!