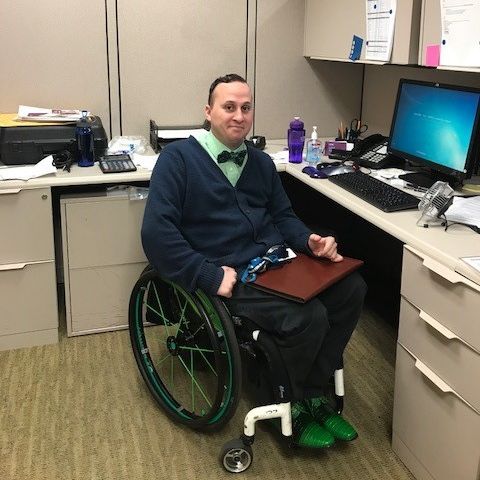 Adults with significant physical disabilities are far less likely to have a job compared to those without disabilities.  But Matthew is an exception.  He can and does work full-time, and is also a board member at the Pennsylvania Statewide Independent Living Council (PA SILC), a nonprofit dedicated to securing public policies that ensure civil rights for people with disabilities.  
 
Matthew is a man with paraplegia. He lacks muscle function in the lower half his body, including both legs.  To maintain his full-time job, Matthew relies on the help of personal care aides who provide about 60 hours a week of assistance.  "They assist [me] with cooking, bathing, dressing, and other activities of daily living," says Matthew. "They [get] me up and ready for work.  They make sure that my dress clothes look good and my tie [is] straight and shoes are tied." 
 
Personal care aides are some of the most important and expensive Long-Term Services and Supports (LTSS) for individuals with disabilities who, like Matthew, rely on LTSS to live and work in the community.  Matthew's employer-based health coverage does not cover personal care aides.  Only Medicaid covers these services, through two complementary programs: Medical Assistance for Workers with Disabilities (MAWD) and the Independence Waiver.  MAWD expands Medicaid's strict financial requirements so that individuals with disabilities can work, earn and save money above the typical financial limitations, and remain eligible for Medicaid, instead of forcing them to earn less money to qualify. The Independence Waiver provides personal care services as well as a host of other LTSS and community supports.  
 
At Matthew's annual review, his Medicaid caseworker told him (erroneously) that due to the earnings from his job, he was over Medicaid's income limit.  Matthew's Medicaid coverage and Waiver services were subsequently terminated, without examining if he had any other options.
 
Fortunately, Matthew contacted PHLP.  Immediately we determined Matthew was still eligible for the Medicaid-funded personal care services he received through his Waiver by virtue of qualifying financially for the MAWD program.  We contacted local county officials, then went to state officials, to get Matthew's coverage and services restored.  We even got his coverage retroactively dated back to the date of termination, so Matt's personal care aides were able to get paid for the days they worked without pay in the interim.  
 
Matthew's case illustrates how Medicaid allows individuals with disabilities to live and work independently in the community, and to lead full and dignified lives.   PHLP exists to provide free legal services to help Matthew and others like him secure these benefits, and to make people aware that any measures to repeal and replace Obamacare  only hurt people like Matthew. 
Did you receive a Medicaid or Waiver termination notice? Call PHLP today for free legal help!
Your support allows us to help individuals like Matthew throughout the Commonwealth.